November 7 – December 31, 2014
Opening: 6-9 pm, Friday November 7, 2014
December opening reception: 7-9 pm, Friday December 5, 2014
The Museum of Ventura County will be exhibiting new acrylic paintings by Erik Reel in November and December. The show will feature work from his most recent series, Rebar. This exhibition continues ReeL's exploration of mark-making and its relationships to signification. The rebar motif is a loosely defined metaphor for the strength at the core of meaning, something inside and hidden within the concrete. Originally from Seattle, ReeL currently resides and runs a studio in downtown Ventura and has been a part of the Ventura Avenue renaissance over the last few years.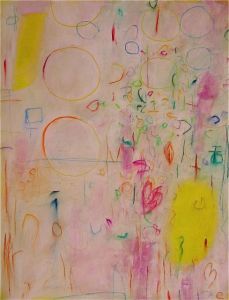 Artist's Statement excerpt:
My work has been influenced by micro- and nano-photography, poorly erased whiteboards, sidewalks, ruins, abandoned industrial sites, ancient stone surfaces, fire, sand, sea, ice, charcoal, hieroglyphs, esoteric texts, Hubble Deep Field photographs, photographs of things we cannot see with the naked eye in real time, foundries, wars, concrete….
As for early influences in the visual arts, growing up in Seattle my visual starting point for
painting was Mark Tobey's late work: the White Writing paintings. Other influences included
Pacific Northwest Scandinavian textile design, architectural, and design traditions, which tend to
be highly abstract.